Sunrise Exhaust Ltd. manufacture high quality mufflers with various configuration styles, welded for solid construction and sturdy reliability. We support and sell mufflers from the following highend manufacturers of mufflers such as Walker, Bosal, Ultrafit, AP Exhaust, API (Auto Part International), Motivair Exhaust Canada, and of course our own high quality popular brand SEL (Sunrise Exhaust Ltd).
The Muffler, an important component of the exhaust system, is a device whose sole purpose is for reducing unwanted noise emitted by the automobile engine. The tubes and the cylindrical expansion chamber which is filled with sound absorbing material within the muffler are designed to reflect the sound waves produced by the engine in such a way that they partially cancel themselves out.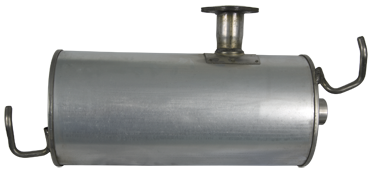 Mufflers are an essential key to vehicle performance because as the muffler decreases the sound, it may decrease engine performance due to an increase of backpressure. A large muffler can offset increased backpressure while maintaining overall acoustic performance.
Mufflers come in many different shapes and configurations. For example, there are mufflers with two cavities and no flow restriction, mufflers in which there is no direct passage between the inlet and the exit, and mufflers with different inlet/outlet positions and diameter sizes, etc.
Selecting the right muffler for your vehicle is important. When deciding what is the best muffler for your vehicle, you must determine the right size and shape to suit your engine (refer to the vehicle owners manual for this information). The choice of muffler style is determined by the original OEM part you wish to replace. We sell a wide range of bolt-on mufflers and stock mufflers and can match the original OEM part. Contact us and our experienced counter representatives at SEL can help you select the right muffler for your vehicle.