Sunrise Exhaust Ltd. manufactures front pipes with durable materials to ensure a reliable exhaust performance for all makes of cars and small trucks on the road today. We support and sell front pipes from the following highend manufacturers of front pipes such as Walker, AP Exhaust, Bosal, Ultrafit, AB Catalytic, API (Auto Part International), and of course our own high quality popular brand SEL (Sunrise Exhaust Ltd).
The Front Pipe forms an integral part of the converter assembly for reducing gas emissions. Front pipes, also referred to as "down pipes", connect the exhaust manifold to the catalytic converter.
Keep this significant exhaust system component free from corrosion and leaks to receive optimum horse power and improved fuel mileage for your vehicle. Because of the pipe's exposure to extreme heat coming from the exhaust manifold, this pipe often develops exhaust leaks. Leaks from the front pipe can cause noise and toxic exhaust fumes. Replace it when it is displaying signs of deterioration.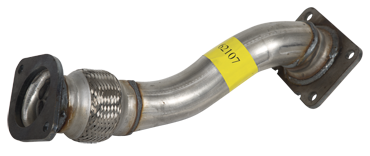 Selecting the best front pipe can increase the overall performance of your vehicle by dramatically maximizing the flow of exhaust gases through the exhaust system. When selecting a brand-new pipe for your vehicle, make sure you go for something that is made from an exceptional material, resistant to extreme temperatures. Front pipes sold at Sunrise Exhaust Ltd. meet these criteria.
The front pipe is attached to the manifold with a flat or ball flange. This connection is subject to bending stresses with the movement of the engine in the vehicle. The front pipe may be supported by a bracket welded to the pipe which is bolted on the engine. The catalytic converter is fitted to the front pipe and exhaust heat coming through the pipe aids the chemical reactions taking place within the catalytic converter.
For a vehicle equipped with a turbocharger, an over-sized exhaust front pipe can offer significant improvement in performance. A turbocharger is essentially a pump, and it is important for the pipes entering and exiting the turbo to have unrestricted flow. On many turbocharged vehicles, the exhaust pipes coming in and out of the turbo contain numerous bends. If these pipes are not properly made, they can restrict exhaust gas flow in and/or out of the turbo.
Reducing exhaust gas restrictions will allow the turbocharger to spool up more quickly which results in more power and/or better fuel economy. Over-sized exhaust front pipes with mandrel bends can significantly reduce restrictions and produce dramatic improvements in horsepower.